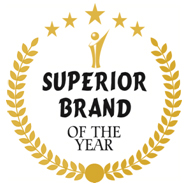 Superior Brand is the premier brand marking and it is the marking based on statistics such as integral business investment, measured by consumer preference. Superior Brand Marking is the only brand marking in the world endorsed and supported by the dealer/consumer. Being used consumer research methodology developed by dealer/partner network, the jury of the Superior Brand marking invited to score listed brands. Consumer keen to participate are invited to fill in important forms so that contact with them can be established, should a cross-check to determine their authenticity be necessary.Only brands which have scored exceptionally in each category are provided this marking.
Benefits of Superior Brand Marking
As we all know market where many of the companies are growing annually, Superior Brandhelps company to create a brand differentiator. Statistics showthat Superior Brand Marking is a best testimony to a brands' strength. Superior BrandMarkinghas been given to brands that performed exceptionally, winning their category with a score that vastly outpolled their nearest competitor. Superior Brand Markings were given to brands that scored significantly higher than their rivals. The marking honors excellence in performance and rewarding companies across different sectors.
How to apply for Superior Brand Marking
It is very easy to participate for Superior brand marking. Any company can participate by filling application form for superior brand marking. We require some data for initial evaluation like dealer network, product characteristics, turnover etc. The External Research agency collects data from publicly available sources &conducts one-on-one telephone interviews in all countries in which brand is performing.
It is important to understand that the nature of the scoring process makes it almost necessary for brands to be nationally available and announces winners in various categories from the data available with them. The companies will be notified about the superior brand marking within 30 days of such announcement. The results from this survey contribute to the market research score for that brand both globally and also for a particular country.
The judging and voting processes of the superior brand marking are unique as points are awarded through stream contributing a set percentage to the total score in evaluating a brand.